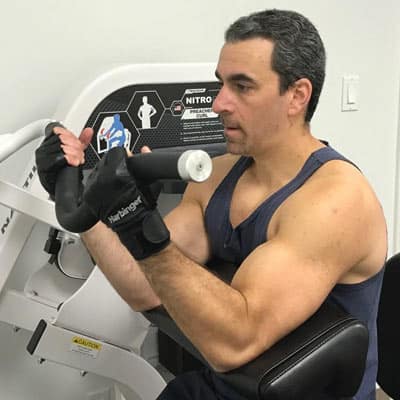 Brian has lost weight, gained strength, feels great and improved his cholesterol ratio!
Brian enjoyed traditional strength training in a gym but once he hit his 40s, his joints could no longer take the abuse. Also, his cholesterol had risen, and he felt he also needed some cardio exercise to address it.
As a busy executive, Brian didn't have much time, so a workout to accomplish all of the above also had to be efficient.
It's amazing what Loyalty Fitness has accomplished ~ I'll never go back to a "regular" gym again!
He found the solution and more at Loyalty Fitness. Working with his trainer Lisa using the Super Slow strength training method, Brian has not only lost weight but has gained strength, all without stress on his joints, so he feels better than ever. The short but intense sessions give him the cardio workout he needs, and unlike his former gym, workouts are easily scheduled during his busy work week.
Best of all, Brian is thrilled that his "bad" cholesterol has decreased significantly, his "good" cholesterol has risen, and his overall levels have dropped over 40 points! Motivated by these results, Brian's wife began working out with Lisa as well, and her cholesterol has improved too.